Results-driven SEO in Cornwall
Our SEO consultation service provides the value of SEO freelancers with the reliability of a multi-award-winning agency. Call 0800 999 1339 and book an appointment with our award-winning experts. How is your website currently performing?
Multi-award-winning SEO agency in Cornwall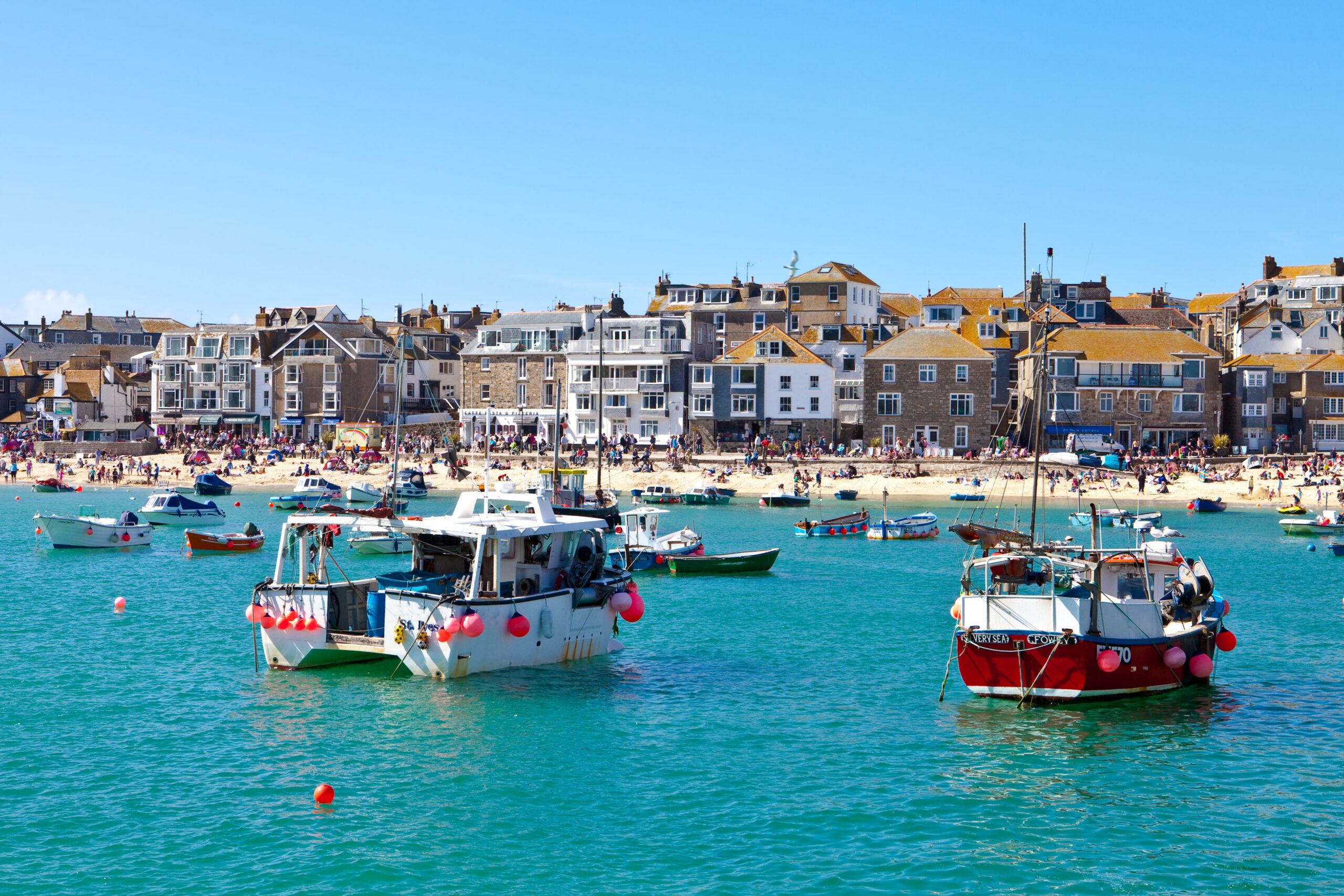 Cornwall's economy largely depends upon agriculture, followed by tourism. The food industry contributes highly to both sectors; everyone loves a delicious Cornish pasty or a refreshing Cornish cream tea. Regarding tourism, the region is surrounded by the Celtic Sea and the English Channel. Cornwall is home to miles of beaches and cliffs thanks to this vast coastline. Despite being rather distant from the UK's main population hubs, it is a favoured tourist destination. Cornwall's distinctive culture, breathtaking landscape and temperate climate make tourism an important sector of the economy. In fact, the local geography is so mesmerising; vast areas of Cornwall's coastline, and Bodmin Moor, are specified Areas of Outstanding Natural Beauty and, as such, are protected. 
However, with great opportunity comes great competition. How does your company stand out from the crowd and attract new customers? How do you best take advantage of the tourists flocking to Cornwall? You need a digital marketing solution that places your business at the top of the search engine results, setting your business front and centre of local relevant searches. You need a personalised local SEO strategy from award-winning SEO specialists SOS Creativity. 
What is SEO? How can SOS Creativity help your business?
SEO marketing techniques focus on improving the rankings of the organic search results pages. These links cost your business no money when a user clicks. The only cost you bare is the cost of the expert hired to provide your SEO services. SEO has exceptional cost-effectiveness; however, it is a slow-moving marketing force, taking months to show the true effects. Think of SEO as the giant of the digital marketing world; while other techniques may move faster, when SEO finally arrives, its huge impact will be felt far and wide and is long-lasting. 
SEO has numerous advantages over other methods of Search Engine Marketing, such as PPC advertising, which focuses on paid search results. Whilst PPC can provide faster results than SEO, it's important to remember that traffic gained from PPC costs money to acquire - PPC charges you every time a user clicks on your advertisements. Also, clicks do not equal conversions; it's estimated that only 2-6% of PPC advertisements convert into sales. That's over 90% of your paid-for clicks wasted. 
SEO audit of your website
Submit your website address to find out how you stack up with your competitors. By doing this, a comprehensive SEO report will be created for you.
Our SEO method: Our 5-step process explained
The SOS Creativity SEO process is split into five key steps: enquiry, due diligence, implementation, testing, and finally, support. 
---
Initial enquiry
At SOS creativity, we start with a consultation to learn about your business, objectives, and ideal audience. We find most websites cover the basics of SEO, but there are always key areas which can be improved. During this stage, we listen to your goals and the challenges you face as a business and identify obstacles in your path to success.
Our due diligence
As digital marketing experts, we aim to improve your site's visibility and ranking potential. We commit to our clients very seriously; our due diligence process includes considerable research and analysis. Covering areas such as competitors, target audience, and keywords. 
Implementation
Using the information gained from our enquiry and due diligence, our search engine marketing team will strategise and formulate a plan of action to achieve your business's online goals. 
Testing
Every plan can be refined and improved; we use the data gathered from our implementation stage to test and improve our marketing activities consistently. We work hard to ensure you receive a high-quality service that provides value for money and meets your business's objectives. 
Support
Our process concludes with the support phase. In the campaign's final step, we ensure that your needs are taken care of. Our SEO experts are also available to answer any questions you may have. 
What's the difference between on-site and off-site SEO services?
---
Search engine optimisation is a complex process, but at its core, search engine marketing is centred around keyword choice. The goal is to curate a solid selection of keywords for which your business can consistently rank. This is achieved through two SEO branches, on-site and off-site SEO.  
---
On-site SEO is a two-pronged approach. Firstly, your website's content needs to be optimised for search engines; secondly, the source code needs to be optimised. The search engine marketing specialists at SOS Creativity achieve this through our comprehensive 15-step on-site SEO process.
Obtain access details & desired client key terms (the terms will be defined in the first week as further research is needed in this area).
Carry out a full content review on site.
Review & assess key terms by search volume & competitiveness, review site content & meta.
Optimise all site content, meta and headings.
Audit all on-site technical elements.
Issue fixes & areas of optimisation to plan out technical SEO.
Implement on-site fixes as per the agreed list.
Compress images.
Minify code where needed.
Check site speed on desktop & mobile.
Disavow toxic links.
Submit the site for Google indexing.
Set up/Optimise the site's local Google My Business page for local SEO optimisation.
Final SEO On-Site checklist.
Provide client with final report & work completed.
---
Off-Site SEO is centred around increasing your website's authority. This identifies your website (and, by extension, your brand) as a trusted source of information regarding your industry. This, in turn, increases your website's overall average ranking position and rankings for specific search terms. We achieve this through our off-site SEO process, which is as follows:
Increasing the number of links to the site using a staggered strategy.
Improving the quality of the links on the website.
Targeting high domain authority links.
Researching backlink opportunities from trusted/authoritative sites.
Monitoring toxicity.
Link disavow activity.
Local SEO optimisation.
Local SEO citation creation.
Your digital marketing partner in Cornwall
At SOS Creativity, we don't view ourselves as another marketing agency. We see ourselves as an extension of your team, considering our relationship as a business transaction and a partnership.  
As your PARTNER, we promise to be: 
---
Polite, friendly, and easy to work with. Our SEO process is as effortless as it is enjoyable. 
Approachable and open to suggestions. Don't hesitate to tell us your ideas and let us make them happen. 
Respectful. Feedback is essential to developing the best possible solution for your business.  
Trustworthy. When we say we're going to deliver something, we do it on time and to the best of our experience and ability.  
Nimble. Life is full of surprises – we have the skills and expertise to adjust to any unplanned surprises easily. 
Equitable. We believe in fairness and treat all our clients with the same high level of service. 
Reliable. We only accept one outcome from our projects; a very happy client
Interested? Give our team a call, and let's get the ball rolling
We pride ourselves on providing not only high-quality marketing services but also superb standards of customer service. Give our team a call at 0800 999 1339, email info@soscreativity.co.uk, or reach out on social media. By getting in touch with our team, we'll be able to run an audit on your website and find out the score of your site's current SEO rankings. From there, we will put together a strategy to optimise your website. 
SEO audit of your website
Submit your website address to find out how you stack up with your competitors. By doing this, a comprehensive SEO report will be created for you.