Search Engine Marketing relies on a few key tenants. High-quality content, a smooth and easy-to-use website, and quality links. We achieve this through our phenomenal on-page and off-page SEO services. Start your SEO Coventry journey today, and book an appointment with our multi-award-winning team.
Digital marketing agency Coventry
Coventry is well-known for its connections to the motor industry. A Coventry-based business produces the world-famous London Black Taxi Cabs, and the corporate headquarters of the prestigious automotive company Jaguar are located in Coventry. With such ties to the automotive industry, it's no shock that the region's major industries include automotive manufacturing, as well as electronic equipment, machine tools, agricultural machinery, and aerospace components.
With Coventry being such a superb location for business, this also comes with steep competition, necessitating a specialist digital marketing agency in Coventry that can provide a local SEO service tailored to your unique needs and challenges.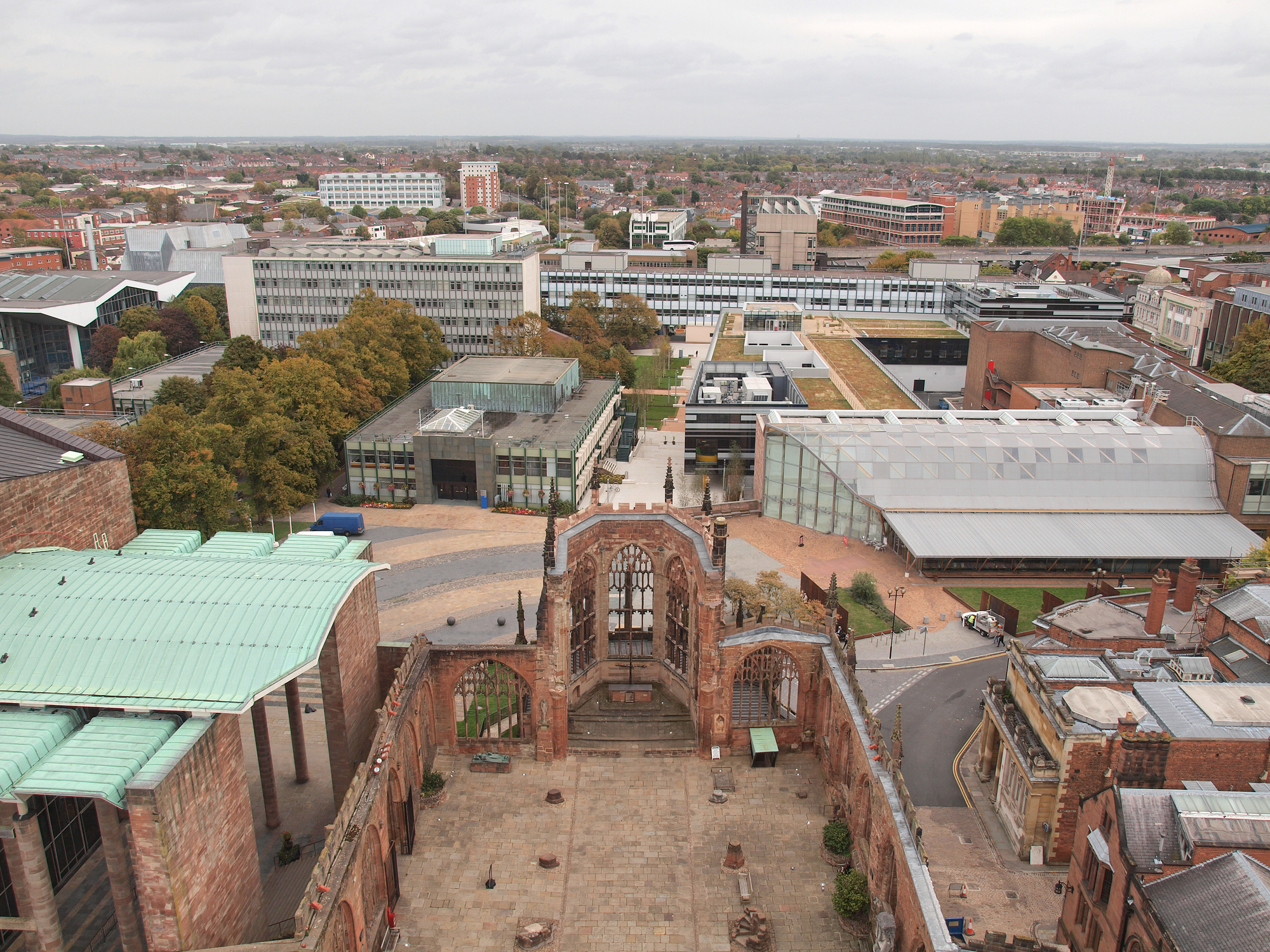 Local SEO Coventry – our SEO process
SEO is a very powerful marketing tool. It can be tailored for specific local regions, providing a powerful marketing boost in the local searches. As such, choosing a marketing agency that understands your local area, its culture, and values is important. After all, Coventry is very different from nearby places such as Kenilworth or Solihull, despite being geographically nearby. As providers of local SEO in Coventry, we understand the challenges Coventry businesses face on a daily basis and offer innovative and creative marketing solutions to overcome said challenges.
At its core, search engine optimisation is centred around keyword choice. The SOS Creativity SEO process is split into five key steps: enquiry, due diligence, implementation, testing, and finally, support.
---
Initial enquiry
At SOS creativity, we start with a consultation to learn about your business, objectives, and ideal audience. We find most websites cover the basics of SEO, but there are always key areas which can be improved. During this stage, we listen to your goals and the challenges you face as a business and identify obstacles in your path to success.
Our due diligence
As digital marketing experts, we aim to improve your site's visibility and ranking potential. We commit to our clients very seriously; our due diligence process includes considerable research and analysis. Covering areas such as competitors, target audience, and keywords. 
Implementation
Using the information gained from our enquiry and due diligence, our search engine marketing team will strategise and formulate a plan of action to achieve your business's online goals. 
Testing
Every plan can be refined and improved; we use the data gathered from our implementation stage to test and improve our marketing activities consistently. We work hard to ensure you receive a high-quality service that provides value for money and meets your business's objectives. 
Support
Our process concludes with the support phase. In the campaign's final step, we ensure that your needs are taken care of. Our SEO experts are also available to answer any questions you may have. 
---
SEO audit of your website
Submit your website address to find out how you stack up with your competitors. By doing this, a comprehensive SEO report will be created for you.
What Is Backlinking – Marketing Agency In Coventry
Backlinking is a core SEO technique involving searching out high-quality links for your website. This is because search engines crawl through the internet using bots called spiders when deciding how high a webpage ranks in search results. These spiders look for a range of metrics by which they measure the relevancy of a website and query, one of which is links. If many high-quality websites link to your business's website, the search engine identifies your business as an authority on the subject. This provides a great boon to your rankings.
However, the key component of a backlinking campaign is high quality. Poor quality websites such as link farms can significantly damage your rankings. As a responsible and ethical digital marketing firm, we seek out high-quality, relevant backlinks from authoritative sources, enhancing your website's rankings in search metrics.
SEO agencies Coventry – why choose SOS Creativity
In an ideal world, every business would handle their digital marketing in-house with a team run by an experienced and passionate digital marketing expert. Sadly, many companies lack the time or financial resources to dedicate to an in-house marketing department. However, we understand that outsourcing your marketing to a third party is unappealing for some. After all, outsourced marketing has a stigma of being less personal, cookie-cutter, and dry. We seek to change that.
At SOS Creativity, we don't view ourselves as another marketing agency. We see ourselves as an extension of your team, considering our relationship, not just a business transaction but a partnership. Our digital marketing team is comprised of a close-knit group of passionate experts; we provide top-quality creative designs, inventive and engaging content writing, and superb keyword research. Thanks to our diverse and skilled workforce, we provide high-quality digital marketing solutions at a cost-effective price.
As your PARTNER, we promise to be:
---
Polite, friendly, and easy to work with. Our SEO process is as effortless as it is enjoyable. 
Approachable and open to suggestions. Don't hesitate to tell us your ideas and let us make them happen. 
Respectful. Feedback is essential to developing the best possible solution for your business.  
Trustworthy. When we say we're going to deliver something, we do it on time and to the best of our experience and ability.  
Nimble. Life is full of surprises – we have the skills and expertise to adjust to any unplanned surprises easily. 
Equitable. We believe in fairness and treat all our clients with the same high level of service. 
Reliable. We only accept one outcome from our projects; a very happy client
Start your digital journey today; Call SOS Creativity
Give our team a call on 0800 999 1339, email info@soscreativity.co.uk, or reach out on social media; we'll run an audit on your website and find out the score of your site's current SEO rankings. From there, we will put together a strategy to optimise your website.
Get in touch today, and let's discuss your business' future in the digital world.
SEO audit of your website
Submit your website address to find out how you stack up with your competitors. By doing this, a comprehensive SEO report will be created for you.